"
"GTFO" boasts an atmospheric slow jam groove from producer Nineteen85, who laces gauzy synths over a tick-tock drumbeat. Carey's vocals are airy and soft as she sings about a doomed relationship, but her delicate vocals add a gratifying edge to the song's delightful kiss-off hook,"
"

– Rolling Stones
GTFO
Released
September 13, 2018
Length
3:27
Writer(s)
Mariah Carey
Bibi Bourelly
Porter Robinson
Jordan Manswell
Nineteen85
Producer(s)
Nineteen85
Jordon Manswell
GTFO
is a song by American singer-songwriter,
Mariah Carey
. Epic Records released it as a single on September 13, 2018. The song samples Porter Robinson's 2014 song, Goodbye to a World. GTFO was the first promotional single for her album
Caution
.
Live Performances
Edit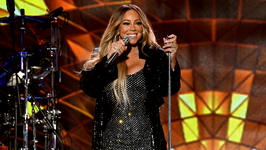 Mariah performed GTFO along with songs such as "It's Like That," "Emotions" and "Always Be My Baby."
[Intro]
How 'bout you?
How 'bout you?

[Verse 1]
You took my love for granted
You left me lost and disenchanted
Bulldozed my heart as if you planned it
My prince was so unjustly handsome

[Pre-Chorus]
Who was that knight in shining armor?
I could've sworn you'd love me harder
Might as well down this Caymus bottle
I ain't the type to play the martyr

[Chorus]
How 'bout you get the fuck out?
How 'bout you get the fuck out?
Get the fuck out
(How 'bout you)
Take your tings and be on your merry way
Fly off with the wind, bye bye baby
(How 'bout you)
Scusami, Mimi call you a valet
(You just) take your tings and be on your merry way

[Verse 2]
My friends all saw it in your eyes
They told me once, they told me twice
I looked beyond all the signs
I guess false love makes you blind, ay

[Pre-Chorus]
Who was that knight in shining armor?
(You, you, you)
I could've sworn you'd love me harder
(You, you, you)
Might as well down this Caymus bottle
(You, you, you)
I ain't the type to play the martyr

[Chorus]
How 'bout you get the fuck out? (How about)
How 'bout you get the fuck out?
How about you get the fuck out?
(How 'bout you)
Take your tings and be on your merry way
(How 'bout you)
Fly off with the wind, bye bye, baby
(How 'bout you)
Scusami, Mimi call you a valet
(How 'bout you)
Take your tings and be on your merry way
How 'bout you get the fuck out?
(Fuck out, fuck out)