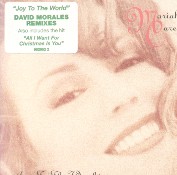 Joy to the World is a popular Christmas carol that was covered by Mariah Carey for her 4th studio album, "Merry Christmas." Carey's version, done in a dance-pop style, combined the chorus (with slightly altered lyrics) of the Hoyt Axton song, "Joy to the World" (made popular by Three Dog Night) with the traditional Christmas song.
"Joy To The World" was first released as a promo only in November 1994. A year later, it was released as a commercial single in Australia. There were several club mixes made of the song, and a remix video was shot.
Chart (1994)
Peak
position
US Hot Dance Club Play
16
Chart (1995)
Peak
position
Australian Singles Chart
33
Ad blocker interference detected!
Wikia is a free-to-use site that makes money from advertising. We have a modified experience for viewers using ad blockers

Wikia is not accessible if you've made further modifications. Remove the custom ad blocker rule(s) and the page will load as expected.