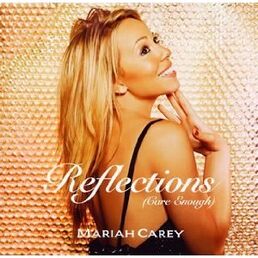 Reflections (Care Enough) is a song by Mariah Carey for her eighth studio album "Glitter."
The song was written by Mariah and Philippe Pierre which was about how Mariah's character, Billie in the film reflects about her mother didn't "care enough" for her.
Song Background
Edit
The song was released as the 4th single from the album in 2001, but it wasn't promoted in the United States due to contractual obligations from Sony Music Entertainment, Mariah's former record label & the international distributor of the "Glitter" soundtrack released a CD single for the song only in Japan.
On December 21, 2001, Mariah performed the song for her CBS Christmas special, "At Home for the Holidays with Mariah Carey."
A clip from the movie in which Billie performs the song in her apartment right after she finishes writing it was used as a teaser for the film in Asia.
Ad blocker interference detected!
Wikia is a free-to-use site that makes money from advertising. We have a modified experience for viewers using ad blockers

Wikia is not accessible if you've made further modifications. Remove the custom ad blocker rule(s) and the page will load as expected.